Exciting Organization Projects That'll Keep You Busy While Sheltering In Place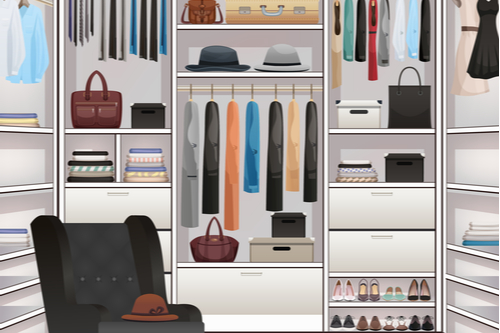 Staying at home can be tedious, particularly if you're not able to work from home and have to wait for your workplace to reopen.
While it might seem fun to binge-watch everything on Netflix or read conspiracy theories on the internet all day, this approach can quickly get dull and feel like a waste of time.
A productive way to spend your days while sheltering in place is to organize your home and get everything neat and tidy.
Charleston Custom Closets is committed to helping you organize your clothes and create a walk-in space that you'll love, but we know that there's more to your home than your closet.
That's why we've listed a selection of fun projects you can start while you're sheltering in place at home.
Rearrange Your Clothes
We've already shown you how to organize your walk-in closet, but if you haven't got one and you've thrown your clothes haphazardly into draws, then now's the time to get them organized. Try putting each type of garment together, or even laying out specific outfits, so you can easily see what you have to wear to every event. If you don't have the space to organize your clothes, then you might want to consider getting a custom walk-in closet. These innovative, quality installations allow you to see all of your beautiful outfits in all their glory and quickly find what you need to look good and feel even better.
Optimize Your Food Storage
With some food items in short supply thanks to panic buying, stockpiling, and supply chain issues, now more than ever it's crucial that you don't waste ingredients. It's easy to forget that old tin of tomatoes you have at the back of the pantry until it's been there for years and isn't fit to eat. Avoid this situation by organizing your pantry by date, product, and the regularity with which you cook with each item. If you want to compartmentalize your pantry, then we offer creative pantry closets that come with dividers to keep everything separate.
Clear Out Your Fridge And Freezer
While you're optimizing your pantry, you should also consider organizing your fridge and freezer. With a perfectly organized pantry, you'll be able to easily see what you need to create delicious dishes that all the family will love. Clearing out your kitchen appliances will also give you the chance to clean them and check that they're working correctly. Take on this task after you've organized your pantry, but before you go grocery shopping so that you can easily find everything you need in your kitchen and make cooking a breeze.
Untangle Your

Jewelry
If you're an avid collector of costume jewelry, beautiful long chains, and cute bracelets, then you've probably accumulated a lot of pieces over the years. Many of our clients choose wall hooks and hanging racks to store their jewelry when they order a custom closet from us, so consider doing the same or talking to us about installing this space-saving solution. Not only will it save you space, but it will also keep your jewelry from getting tangled up and damaged.
Tidy Your Laundry Room
Often, the laundry room gets overlooked and is just a confusing tangle of clothes waiting to be washed, ironed, or folded. This chaos can easily mean that it's easy for you to make a mistake, and you could end up washing the same clothes twice or accidentally ironing dirty laundry. The best way to avoid this is to organize your laundry room. Separate each type of clothes and create a dedicated space on which to fold or iron items. Our custom laundry closets can take the hassle out of creating your ideal space, so consider investing in one if your laundry room is complete madness and in need of a revamp.
Get Your Garage Cleared And Organized
Garages are another commonly overlooked space, with many homeowners using them as a storage room for all the rubbish they accumulate over the years but can't bear to throw away. However, with proper organization, you can transform your garage from an impenetrable junk jungle into a functional space. You could create a workshop so that you can fix your car and repair household items. You could even build an indoor gym and workout room. The possibilities are endless, but you need to clear out all of your junk first. If you're not sure how to start, we offer innovative garage organization systems to help you turn your impenetrable storage space into a perfectly organized, thriving hub of activity.
If your organization project has made you realize that you need a custom space to keep all of your precious possessions, then reach out to us. As a leading provider of custom closets in Charleston, South Carolina, we have the expertise to help you create the perfect space.